Literature supply in a transnational research network: The information infrastructure of Mecila
Christoph Müller (Principal Investigator at Mecila)
Screenshot of the 1st virtual meeting in December 2020.
Screenshot of the Discovery System IberoSearch.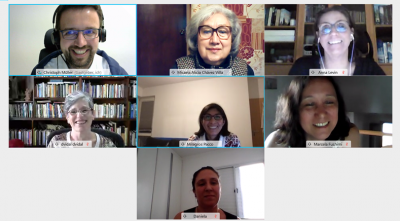 The IAI, which consists of a research centre, a cultural centre, and the largest European library specialised in Latin America, the Caribbean, Spain, and Portugal, provides all Mecila researchers access to all its holdings. If Mecila's scholars have specific literature needs that go beyond the library's holdings, the IAI acquires corresponding media with its own funds, if possible in electronic form.
With their IAI library card, all Mecila investigators can directly access all licensed or freely available electronic offers of the IAI via the Online Catalog of the IAI library or the discovery system IberoSearch, independently of time and place.

The copyright-free publications digitised by the IAI are generally available via the IAI's Digital Collections.
Publications that are not yet copyright-free in a licensable electronic version should also be accessible to Mecila's investigators. To this end, the partner libraries are pursuing a two-pronged solution strategy.
On the one hand, Mecila's partner institutions will exchange publications in physical form whenever possible. For research at Mecila's headquarters in São Paulo, the Instituto de Estudos Brasileiros will provide its library reading room where Mecila scholars can work with these materials. This will also be possible in Berlin, La Plata, and Mexico City.
On the other hand, the IAI has set up an electronic reading room for Mecila, which makes it possible, within the regulations of German copyright law, to also make publications under copyright accessible electronically to a limited extent. Publications of high relevance for the entire project are scanned with project funds to make them available as image files in the electronic reading room, which is only accessible to active Mecila investigators.
By all these analogue and digital means, Mecila scientists have the possibility to access literature and relevant information sources held in the collections of the partner libraries at all locations of the project, to advance their research.
For more information, please contact: mecila.library@iai.spk-berlin.de
Cover image: The library of the Instituto de Estudos Brasileiros in São Paulo, Brasil (IEB).