The Biblioteca Mecila-CLACSO seeks to publish  research results in a wide range of subjects, issues and disciplines at the intersection of conviviality and inequality in Latin America produced in the framework of the international cooperation promoted by Mecila. In addition to traditional academic formats, such as individually authored books and edited volumes, the series promotes flexible publishing formats, including keynote lectures, thematic anthologies and translations of cutting-edge research in the field of conviviality-inequality. Following the Centre's multilingual approach, books are published in Spanish, Portuguese, and English. All volumes will be available in Open Access.
Series editors: Laura Flamand (El Colegio de México), Gesine Müller (Universität zu Köln), and Ramiro Segura (Universidad Nacional de La Plata).
Mecila (ed.)
Arjun Appadurai, Sérgio Costa, Tilmann Heil, Fernando Baldraia, Nilma L. Gomes, Encarnación Gutiérrez Rodríguez, Maya Manzi, Peter Wade, Claudia Briones, Ramiro Segura, João José Reis, Raquel Rojas Scheffer, Gabriel Feltran. 
ISBN 978-987-813-216-7
CLACSO. Mecila.
Buenos Aires. São Paulo.
Junio de 2022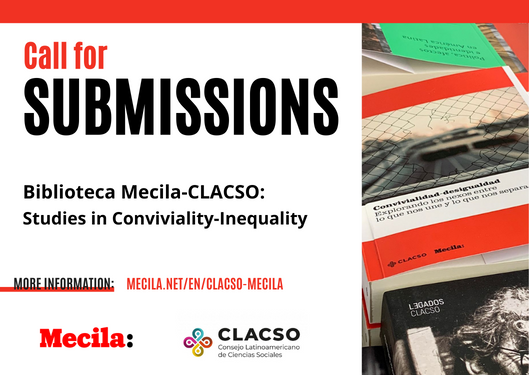 Biblioteca Mecila-CLACSO: Studies in Conviviality-Inequality