1st Mecila Alumni Symposium: Bridging Knowledge and Fostering Collaboration
Raquel Rojas (Postdoctoral Investigator, Mecila / FU Berlin)
Mecila 1st Alumni Symposium.
Image: Nina Leibbrandt
The 1st Mecila Alumni Symposium served as a catalyst for reconnection, insights for new fellows, and collective reflections within the Mecila community.
From 2 to 4 November 2023, a vibrant gathering took place in Berlin as former Mecila Fellows reunited to discuss the progress of their research since concluding their stay in São Paulo in November 2022. The symposium served as a platform for discussions, reflections, and exchanges, highlighting the pivotal role of the Maria Sibylla Merian Centres of Advanced Studies in reshaping academic landscapes and reducing global knowledge asymmetries.
In his inaugural address, Freie Universität Berlin President Günther M. Ziegler underscored the significance of the Merian Centres as instruments of science diplomacy, fostering academic freedom even in challenging political climates. He emphasized their role in facilitating collaboration among scholars socialized in various academic cultures, thereby contributing to overcoming colonial and Eurocentric legacies still present in the humanities and social sciences in Europe and Germany. The Ambassador of Brazil in Germany, Roberto Jaguaribe, and the representative of the German Federal Ministry of Education and Research, Ministry Counselor Vivien Baganz, also emphasized Mecila's pivotal role in promoting cooperation on an equal footing between scholars and institutions from Germany, Latin America, and worldwide.  
The symposium provided a variety of settings in which former and future fellows, principal investigators, postdoctoral investigators, and other members of the Mecila community could engage in lively discussions, conversations, and exchanges.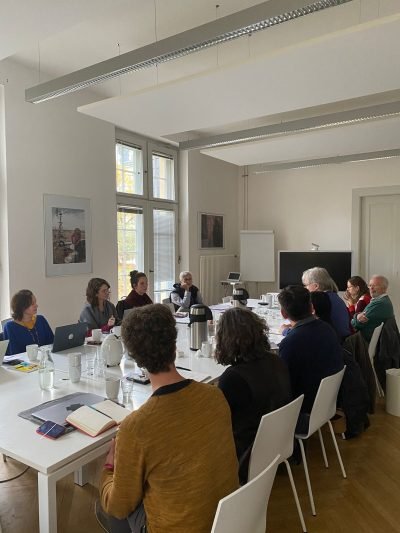 The first panel delved into the contributions of centres of advanced studies to both local and global academic communities. It emphasized the importance of giving researchers the time and space to think (and rethink) their projects in order to come up with new ideas, while providing an environment in which they can learn with and from colleagues across different disciplines, thus enriching their perspectives. The Merian Centres, in particular, were commended for bridging mainstream and alternative circuits of knowledge dissemination thereby enhancing their potential for innovative knowledge production. Their practices are designed to promote symmetric dialogues and collaborations between scholars and non-academic experts (activists, indigenous leaders, artists, practitioners) from various regions, generations, and social positions. Participants also stressed the need to intensify efforts in involving science policymakers, governments, and funding institutions in dialogues designed to highlight the benefits of promoting horizontal cooperation between institutions from the Global North and the Global South.
The second day began with a tour of Wissenschaftskolleg zu Berlin (WIKO) and the Forum Transregional Studies, offering insights into their history, work, and ongoing projects. In the afternoon, the interdisciplinary panels led by former fellows focused on overcoming epistemic violence, redefining established concepts, and prioritizing marginalized voices and agency. Discussions highlighted the importance of embracing diverse epistemologies and methods that respect and acknowledge the perspectives of research interlocutors.
On the last day, after a comprehensive discussion about collaborative research experiences, Mecila's role in advancing fellows' projects, and future collaborations, the symposium concluded with an on-site discussion at the Floating University Berlin, emphasizing the need to bridge academic and non-academic knowledge and involve communities in researchers' projects. This underscored the overarching theme of the symposium: the imperative to challenge colonial and Eurocentric legacies through collaborative theoretical and methodological approaches.
In essence, the 1st Mecila Alumni Symposium served as a catalyst for reconnection, insights for new fellows, and collective reflections within the Mecila community. It showcased the transformative potential of academic collaboration and knowledge exchange, shaping a more inclusive and equitable future for social sciences and humanities.
Mecila 1st Alumni Symposium.
Image: Nina Leibbrandt