With her most important work Metamorphosis insectorum surinamensium (1705), naturalist and artist Maria Sibylla Merian (Frankfurt 1647 – Amsterdam 1717) bequeathed to posterity a documentation of her extensive research on Caribbean insects and plants in the Dutch colony of Surinam in northern South America. This book fascinated her contemporaries in terms of content and aesthetics and is still of great historical and artistic relevance today. For almost two years, Merian and her youngest daughter conducted nature studies of the most comprehensive kind, trying to understand the complex life cycles of insects and plants. At the same time, their studies also reveal observations about the colonial slaveholding society, in which the two women were hosted but stood out as completely exotic beings.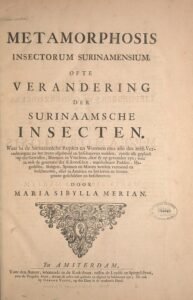 On 31 March the literary scholar Susanne Klengel will trace the manifold forms of convivial configurations that have found their way into today's historiographical and literary narratives about Maria Sibylla Merian's life and work. Moreover, Professor Klengel will shape our image of the remarkable woman naturalist today.
The lecture is the kick-off event of Mecila's 2022 activities and will take place at Cebrap for an invited audience following hygiene measures. The event will be recorded and available on our YouTube channel.